Di Fretta simply translates to 'in a hurry'
This has been a staple fast food in our house for years.
The sauce, when blended, is perfect for freezing so feel free to make a double batch and pop some way for a handy back up meal.
INGREDIENTS
2 Tins Organic Tomatoes (c)
425g Tin of Good quality Tuna (drain oil off unless you can find one that uses pure olive oil)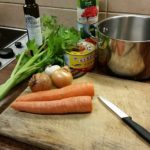 1 Large Onion Chopped (s)
8 Garlic cloves finely chopped(s)
4 Carrots chopped (c)
4 Celery Stick, including the leaves, chopped (c)
5 Tbsp extra virgin cold pressed Olive Oil
Goat/sheep milk Feta to crumble on top
METHOD
Place all sauce ingredients in a medium-sized saucepan and simmer over a low heat for 20 minutes.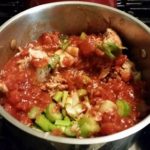 Once the sauce is done removed from the heat and stir through the garlic.
If having with pasta use good quality gluten free pasta (I like Eco Mung Bean Fettucini)
Bring a large saucepan of water to the boil, add the pasta and cook for the required time (Eco pasta mentioned is 6-8 minutes)
Strain pasta, divide between bowls and pour on your sauce, either chunky or blended
Season with good quality pink salt and pepper.
Top with goat/sheep milk feta.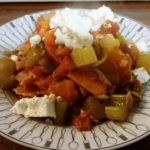 Serve with a salad abundant in Dark Green Leafy lettuce leaves and a simple homemade dressing. Equal parts of balsamic vinegar and olive oil is perfect!
That's it!
Another suggestion is to serve it with organic brown rice.
Once your sauce is on the stove, simply bring a pot of water to the boil, tip in 1/2 cup of rice per person serving, simmer for 20 minutes and then strain.
Divide into bowls and top with the sauce and some feta … voila! Dinner in 1/2 an hour.
My tip with cooking brown rice is not to use the absorption method, rather to tip the rice into sufficient water so that you have to strain it at the end. This leaves you with rice that still has just a little bite to it rather than icky mush that is the result of the absorption method of cooking.
(g) ~ leafy greens
(c) ~ deeply coloured
(s) ~ sulphur-rich
~ Keeping in mind the necessity for 7-9 cups of vegetables and fruit every day, made up of  3 cups of dark green leafy veg, and 2-3 cups each of deeply coloured and sulphur-rich portions, I coded the above for your ease of reference.