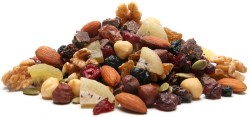 Scroggin
ˈskrɒɡɪn/noun
AUSTRALIAN/NZ 
… a mixture of dried fruit, nuts, and other food eaten as a snack by hikers.
This was a favourite snack for long car trips when I was a kid. Now in our house, it is a favourite anytime snack!
Preparation
Nuts and seeds contain anti-nutrients, soaking them helps to generate more healthful enzymatic activity.
Soak in fresh water for 24 hours
Soaked nuts and seeds tend to be a bit chewy, but dehydrating them will restore their crunch texture – be sure to use a dehydrator temperature not exceeding 50 deg. C.
In selecting dried fruit ensure it is organic and dried naturally by the sun. Look for packages that say "no sulphites," as this is a toxic preservative that maintains colour. Dried fruit shouldn't look like the original, while it might not look as appealing, brown and shrivelled is at times, the healthier option.
Make a mix of all or any of the following for a snack containing a powerhouse of enzymes, minerals, and essential fatty acids…
Nuts and Seeds
Almonds
Brazils
Cashews
Pistachio
Walnuts
Hazel
Macadamia
Pecans
Pepitas
Sunflower
Organic Dried Fruit and Extras
Sultanas
Raisins
Cranberries
Goji Berries
Coconut Flakes
Cacao Nibs
Dates